Lesen Sie diesen Text auf deutsch

A question is dividing the country: Did Merkel invite hundreds of thousands of refugees to Germany in September of 2015? The debate surrounding the issue has cast a shadow over Merkel's political future, boosted the right-wing populist Alternative for Germany party in several state elections and poisoned the political climate to such a degree that politicians are routinely insulted as "traitors to their people," even during the recent Day of German Unity celebrations in Dresden.
Those who hold the chancellor responsible for the huge influx of refugees who arrived in Germany late last year point to three events. The first is Merkel's statement that "we can do it," first uttered during her traditional summer press conference on Aug. 31, 2015. The second is the famous selfie showing Merkel with a refugee, taken during her visit to a hostel in Berlin on Sept. 10. Third, and most important, was Merkel's decision on Sept. 5 to accept thousands of refugees who had set out to walk from Keleti Station in Budapest to Germany.
The trio of welcoming gestures came within the space of just two weeks. Were they enough to trigger a vast wave of refugees?
Now, just over a year later, data has become available that can at least partly answer that question. And it shows that the Merkel effect, if there was one at all, can hardly be measured.
The first indicator is how the number of refugees arriving in Germany developed over time. Did the number really only begin climbing after September? Migration expert Herbert Brücker, of the Institute for Employment Research (IAB) in Nuremberg, has analyzed data from the Federal Office for Migration and Refugees (BAMF) which shows for the first time how refugee numbers developed on a week-by-week basis. His results indicate that the refugee wave began much earlier, in spring 2015, and that Merkel's decision on Sept. 5 changed nothing, at least not in Germany.
Development of Refugee Numbers in Germany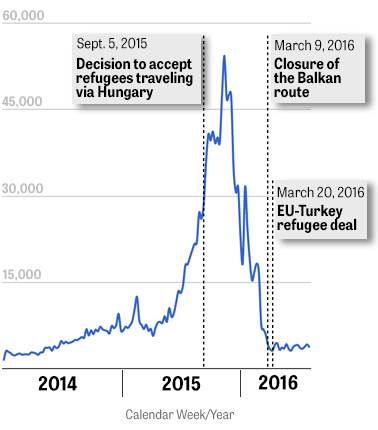 But doesn't the graphic also show that even more people began arriving in Germany in November? Can't this uptick be interpreted as being the result of Merkel's policies? To answer that question, one must understand how migration movements develop. In the beginning, they are almost always small. A few people set off and their neighbors and friends wait to see if they are successful or unsuccessful. Should they reach their destination, it is a signal for many of those back home to embark on journeys of their own. The more people from a specific community find success, the more of those who stayed behind find the courage to leave. That was also true in 1989. Back then, the stream of East Germans heading to the West via Hungary continually grew as they learned that those who had already left had made it.
That is why migration researchers don't just look at absolute numbers. Rather, they look at how growth rates develop from month to month. Only then does the movement's dynamic become clear. And this growth rate remained stable in Germany, even after September.

So had most refugees already left home by the time Merkel appeared in the famous selfie? It helps to take a look at the countries through which the refugees travelled that summer. Their journey led them approximately 3,000 kilometers from Turkey through Greece, Macedonia and Serbia to Hungary.

Over 3,000 Miles to Safety
The rough path of the so-called Balkan route, used by many refugees in 2015 to reach Germany
Greece was the first country through which the refugees had to pass. Arrival data from the country shows that the migration wave began in March and grew rapidly from there. The largest jump in the number of refugees entering Greece came between July and August of 2015, long before September. These people hadn't waited for Merkel's invitation. Rather, they had set off of their own accord.
Refugee arrivals in Greece in 2015
In August 2015 we see an increase of 97 percent compared to July. The monthly growth rate from August to September is 36 percent.
Monthly growth rate
Arrival data from Hungary likewise shows that the largest uptick took place from August to September. The people who had arrived in Greece in August pushed their way northwards, first by ferry from the Greek islands to Athens and then onward by bus and train to the Macedonian border. There, they often walked across the border before heading onward by train to the next border with Serbia. Again, they crossed the border on foot before ultimately finding their way to Hungary.

It could very well be that Merkel's actions later motivated many refugees to continue onwards to Germany. But those who arrived in Hungary in September hadn't just recently left their homelands. They had already been on the road for some time. As such, the data from the Balkan Route shows that Merkel did not intensify the wave of refugees.
The power of the internet?
But what about the theory about the power of the internet? It argues that many refugees left their homes for Germany after seeing Merkel's selfies and images from Munich central station, where the first refugees were met with cheers and enthusiasm. Those photos, according to this version of events, were shared millions of times on social networks and encouraged many to come to Germany. This claim is more difficult to check, but there is data that calls it into question.
Google keeps statistics on all queries made on the search engine. On behalf of ZEIT ONLINE, the company examined how many people in Syria in 2015 searched for word combinations like "asylum in Germany" or "immigration to Germany." Not everyone who searches these terms plans to flee, of course, but it demonstrates how many people were looking for information. The dataset shows that such searches rose significantly in August 2015 -- making it clear that many Syrians were already looking for information about migrating to Germany before the chancellor's gestures.
Google searches from Syria
Weekly analysis of select search phrases according to Google search volume index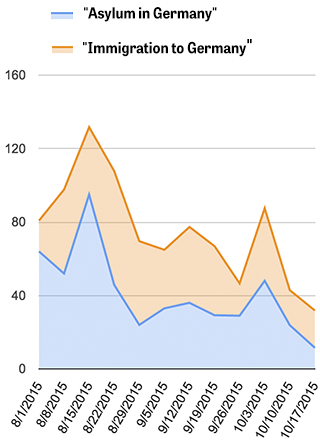 It's also difficult to straightforwardly determine the effect of a famous tweet sent out by BAMF on August 25, saying that Germany was no longer enforcing the Dublin process for citizens of Syria. In other words, this meant Germany was no longer sending refugees back to their first country of arrival in the European Union. Germany began enforcing Dublin again in November, but before then, many Syrians did indeed interpret the tweet to mean that they faced no threat of deportation from Germany. Data from Twitter indeed show that the tweet widespread throughout the world.

What is often overlooked, however, is that Dublin wasn't being enforced in most cases even before that tweet, in part because the European Court of Justice had suspended deportations to Greece in 2011. "The Dublin regulation had already collapsed," says international law expert Walther Michl from the University of Munich. "More than anything, the tweet was a guarantee that Germany really wasn't enforcing Dublin for Syrians." In other words, the tweet was certainly an important signal for Syrian refugees, but it was not indicative of a change in approach.
If it wasn't Merkel, then who was it?
Ultimately, the debate about Merkel's refugee policies centers on the following question: Would the chancellor have been able to slow down or stop the refugee wave if she had done things differently? The answer has to be no. The trigger for people to leave their homes was much more powerful than a few tweets, selfies or photos of cheering Munich residents. The flight of millions of people had four essential causes:
In summer 2015, the war in Syria worsened
Many Syrians realized in spring and summer of 2015 that there was little chance the situation in their country was going to improve in the near future. In the first half of the year, the regime of President Bashar Assad found its military under increasing pressure and significantly expanded its bombing campaign in response. July and August saw some of the worst attacks on Aleppo, Ghouta and other rebel held areas that had been seen to that point. At the same time, the American air campaign had not yet been able to slow Islamic State expansion. That summer, many Syrians lost all hope, particularly Palestinians in Syria. Their refugee camp in the capital of Damascus, called Yarmouk, had been the target of vicious attacks since 2014 and the exodus of civilians from the camp had been going on for a long time.
No work, no visa
Along with Turkey, Lebanon had long been among those countries that had accepted the largest number of refugees from Syria. But in early 2015, the government in Beirut decided it was incapable of providing shelter to more people and introduced a visa requirement for Syrians. At the same time, a rumor began making the rounds in the region that Turkey was planning on doing the same. As a result, in the first half of 2015 many Syrians had the impression that it was their last chance to leave their country. At the same time, the situation of refugees in Lebanon and Turkey had become increasingly tenuous. Only a minority of refugees in the two countries had found shelter in camps and most were on their own. After four years of civil war, many people had used up their reserve funds, but in Turkey and Lebanon, they were not permitted to work. Turkey only lifted the work ban in January 2016 as part of the EU-Turkey deal.
Security situation in Afghanistan worsened significantly
Afghans are the second largest group of refugees, with most of them fleeing because of the rapidly worsening security situation in their country. According to the United Nations Assistance Mission in Afghanistan (UNAMA), more civilians lost their lives in the country in 2015 than in any year since 2009. The Taliban was able to take over 23 of around 400 of the country's district headquarters either temporarily or permanently. Thomas Ruttig of the Afghanistan Analysts Network estimates that between 60 and 100 districts were either controlled or threatened by the Taliban in 2015. Pressure to flee was particularly strong among the mostly Shiite Hazara ethnic group. At the same time, the mood among the population was shifting rapidly. Prior to the 2014 presidential elections, many Afghans had still been confident about their futures. But that changed when the new president proved unable to improve the security situation. In June of 2015, the Asia Foundation carried out a survey of around 10,000 Afghans and 57 percent said they believed the country was moving in the wrong direction. Never before had the result been so pessimistic. In response to the question, "Would you leave the country if you had the chance?" 40 percent of respondents answered in the affirmative. At the same time, many Afghans who had long lived as refugees in Iran left for Europe. There are around 3 million Afghans living in Iran, where they face deep discrimination: Many of them don't have residency permits even after decades of living there, and they aren't allowed to work or, in many cases, study at universities or even attend school. Human Rights Watch also reports that the regime in Tehran forcibly recruited Afghan refugees in 2015 for pro-government militias in Syria. The refugees, the report says, were threatened with deportation back to Afghanistan. Many decided to flee to Europe in response.


All of this suggests that the movement of refugees to Europe had begun long before Angela Merkel made her much-discussed decision that night in September. Espacially from Syria many people had already opened to Germany. Some of the Syrian educated middle class used for a long time contacts here. It is possible that Merkel's actions intensified the movement, that some people took courage to leave their homes because of that. But Merkel was not responsible for triggering the wave. Even if she had acted differently, she would hardly have been able to stem the refugee influx.
But it is also true that political leaders in Germany were well aware of what was happening in Syria and Afghanistan during the first six months of 2015. They also knew about the forecasts made by the Interior Ministry from Aug. 19, 2015. The federal government, the state governments, the police and the civil administration could have done much more to prepare for the arrival of thousands of refugees.
The events of September 2015 remain a political turning point. From Sept. 5 onward, it was clear that the problem could no longer be ignored. The governments and peoples of Europe had to decide which approach to the refugees they would adopt: one of sealing themselves off, such as the path chosen by Hungarian Prime Minister Viktor Orbán, or one of open arms. That's still the case today.

With reporting by Marie-Louise Timcke
Translated by Charles Hawley